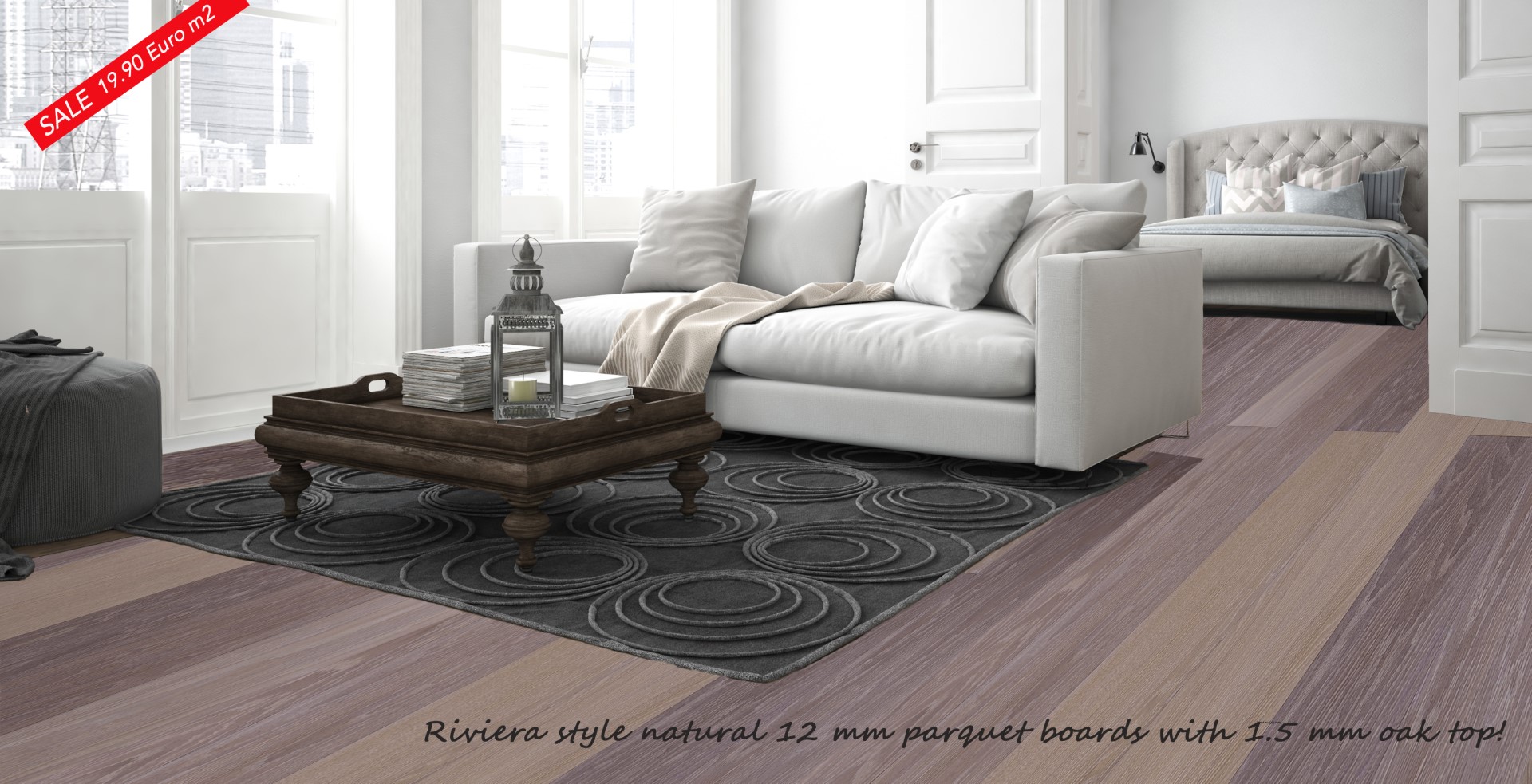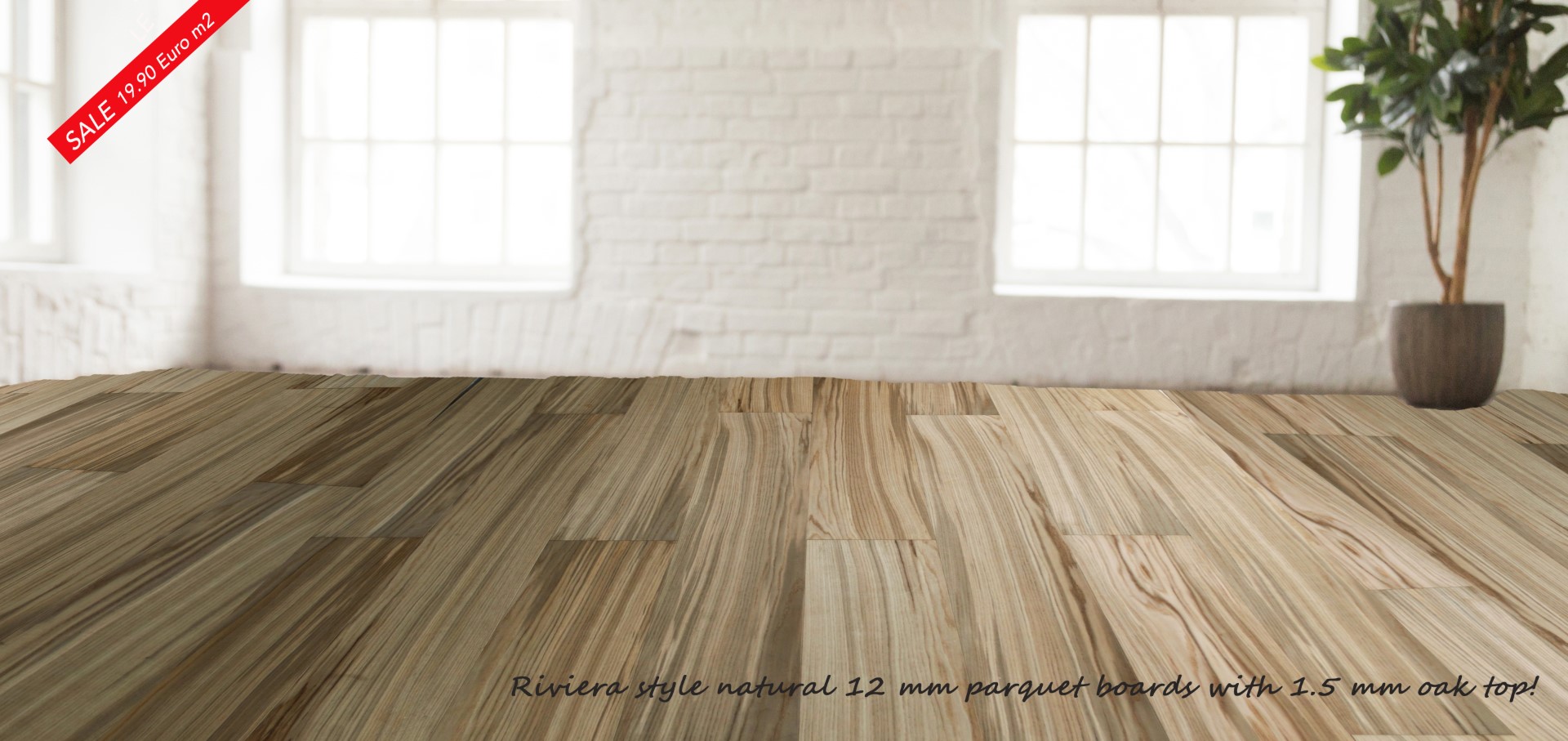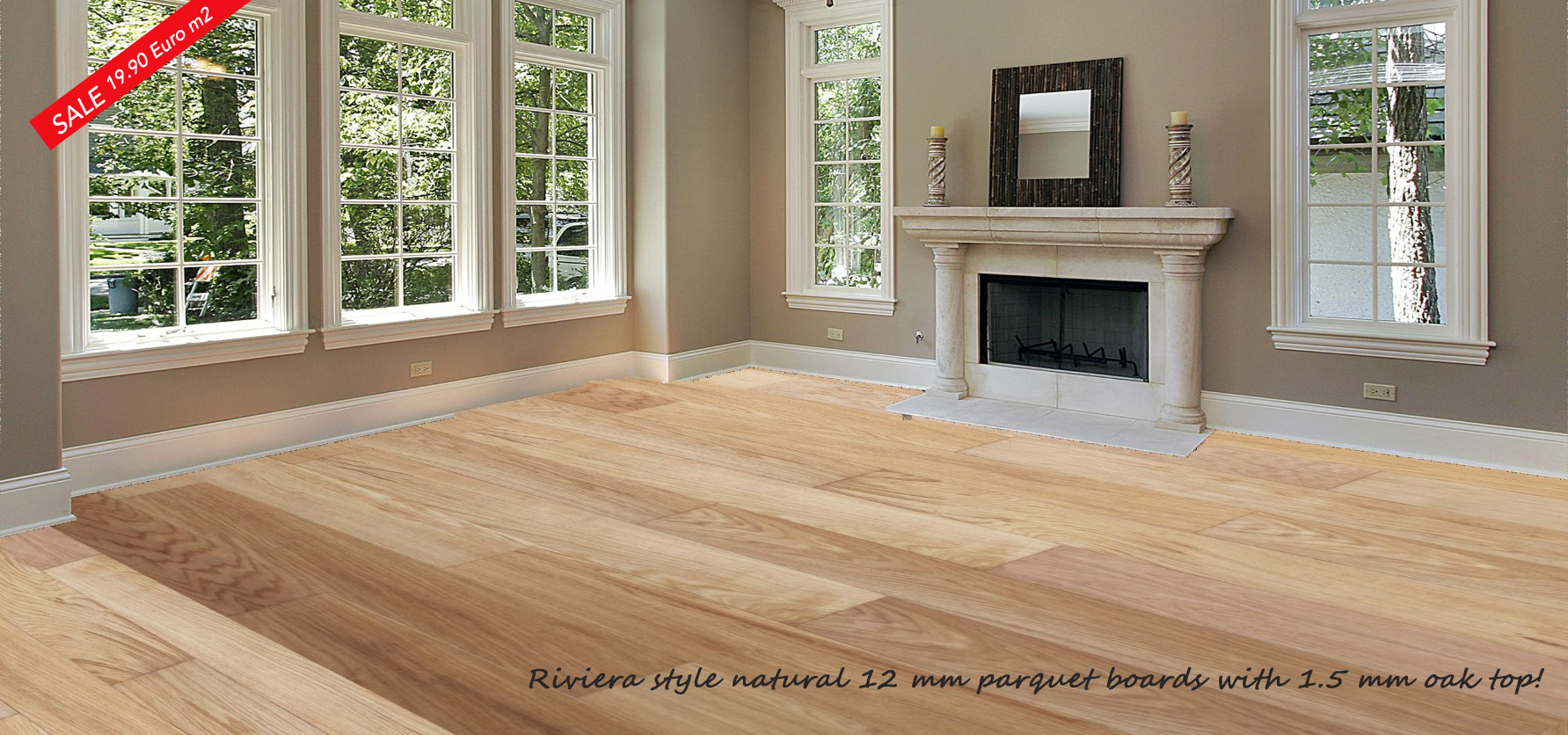 l RIVIERA BEDROOM LIVING ROOM мозаика розовый SALE VERNO (Large) - Copy
RIVIERA natur VERNO 2-3 (Large) (1)
ЗАЛ ривьера maslo VERNO SALE 1-3
About OKEE's two layer parquet.
What it is?
Two-layer parquet is made of two mutually glued layers. The inside layer is made of birch plywood and top layer, which determines the appearance and durability of the floor covering, is 2.5 mm or 1.5 mm. Inside part- birch plywood is made from hot pressed birch veneer which ensures high dimensional stability of the board at a wide range of temperatures and humidity fluctuations. The top layer- face layer is made of oak, which is one of the hardest and most durable deciduous trees in Europe. OKEE uses Latvian, Slovakian and … oak.  Two-layer floorboards are a actually a novelty in the world of wooden floors, because they were invented in the sicties of the 20th century.
How to use it?
Due to its construction, two-layer parquet is intended for laying on all types of floor substrates. . In addition, it is considered to be the most suitable solution for finishing heated floors. Two-layer parquet can be laid on plywood, OSB, as well as concrete floor. Possible installation on heated floors. Laying is done by gluing the boards to the base floor.
Why to use OKEE's too-layer floorboards?
Compared to solid wood boards, a greater advantage of two-layer boards is much less sensitivity to moisture fluctuations both in outdoor areas and indoors. Therefore, two-layer floor boards can also be laid on a concrete base floor, including a heated floor. One of the advantaged is also sound isolation. Unlike as in three-layer parquet floors, in a two-layer parquet the counter-move is usually missing or is replaced by a certain carrier material. However, this results in a lack of stability. Usually, the low construction height is a common factor in the decision to install a two-layer parquet. Especially in renovations and modernisations, there is often insufficient space.
Not to mention, OKEE provides fire-resistant treatment by Burnblock.  According to the certificate, OKEE floorboards can withstand an open flame for 30 minutes at a temperature of + 300 ° C. These minimum fire safety requirements for the design, construction and construction of public spaces and, soon, the additional treatment of flooring in private homes are offered at no additional cost from OKEE!
ELITE style
Minimal variations in types of wood tones and textures, practically no knots, small, overgrown dotted knots with a diameter of ≤5mm are allowed.
ETALON style
Small variations in wood tone and texture, with small overgrown knots with diameter ≤20 mm. One of the most popular styles, as it is a compromise between highest class boards and knotted floorboards (Riviera and Wild).
RIVIERA style
Various wood tone and texture variations, open knots, and knots with fixed with putty ≤25 mm. No large cracks. No sapwood is allowed (lighter strip along the edges of the boards). The Riviera style also includes various combinations of all other styles provided with the top layer of the oak stitched from 2 pieces of veneer.
WILD style
Various shades and texture variations of natural wood, big amount of knots, filled knots ≤75 mm, as well as cracks of various sizes (fixed with putty). This style perfectly embraces the natural difference of oak shades and textures.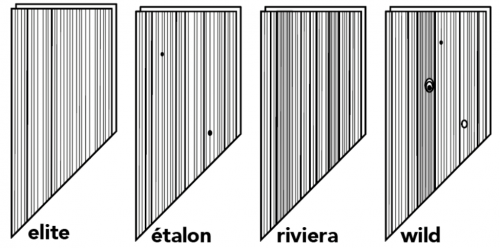 Sizes
OKEE floorboards are available in different sizes.
As the whole production process of parquet- starting from peeling the log till finishing with oil, it all happening in one factory, so we are capable to offer almost any possible size to our clients.
| | | | |
| --- | --- | --- | --- |
| Length (mm) | 1100-1600 | 1600-2000 | 2000-2500 |
| Width (mm) | 130-200 | 200-250 | 250-300 |
| Thickness of plank/of oak face layer (mm) | 12/1.5 | 14/2.5 | 16/2.5 |